For sale: Little old stone house +++ totally renovated +++ highest technical standard +++ with annexes and wonderful garden +++ For sale due to the advanced age of the proprietor +++ Location: outskirts of the village of Xinovrisi, close to Argalasti +++ Price: 164.000 EUR +++ Contact (English, German, Greek) 0049 5840 989580
The House at
Xinovrisi
The premises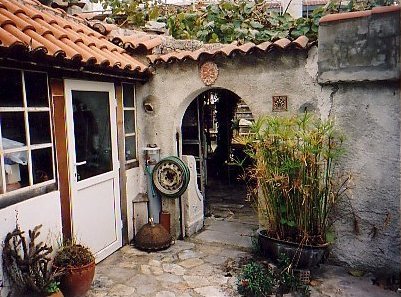 Beside the little house there are a guest house, the baking house, a shed for the numerous tools (with a toilet room, shower and water closet), the garage with a second shed, the winter garden (fully insulated) and the huge pergola. In total the "living space" has about 180 square meters - by a total surface of the property of 830 square meters.
The house itself is round about 80 years old. When the actual proprietor bought it some 30 years ago, it was still in a good shape with its walls of natural stones of 80 centimeters, only the roof was to rebuilt immediately. From the beginning on the new owner started to renovate the totality at the highest level: perfect insulation everywhere, new floors (terracotta on the ground floor, wood in the first floor), a bathroom, a heating, electricity, everything.
In winter time a brake down of the energy supply is a well known phenomenon in the country side of Greece. No electricity, no heating, no water. That is why the owner of this house looked for a total redundancy: 12-Volt-DC with wall outlets in every room, with lamps on every important place, a transformer to 230 Volt for the heating pump (the system it self is driven by gas). The batteries are charged by solar panels and a device of the windmill-type. Water supply is secured via an automatically controlled system with a tank capacity of 4.000 kilograms.
The rooms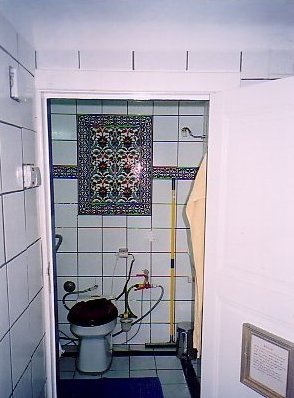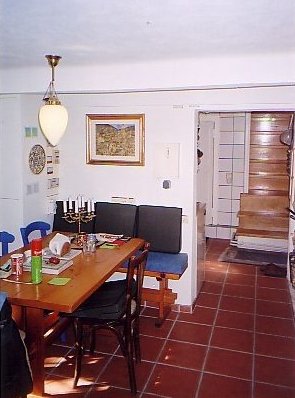 On the ground floor you will find the dining room, the kitchen and the bathroom with shower.
An inner staircase leads to the first floor, where are two berth rooms, a living with chimney and a little toilet room. The first floor has an air conditioner. The guestroom is, as mentioned, in a little house.
All rooms have wall let outs for telephone, the use of cell phones is without any problems. Receiver for television is installed, all Greek and international programs are available.
The property is for sell with nearly all its equipment.